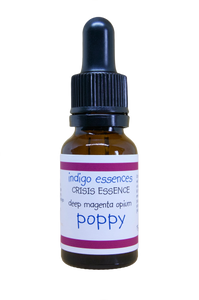 Deep Magenta Opium Poppy - Bringer of Peace
Regular price €11.07 Sale
FOR STATES OF FEAR AND TERROR



For when you feel consumed by fear, for times when fear wakes you up in the night, for times when fear makes you shake all over.
Deep Magenta Opium Poppy will help to soothe you.   Breathe deeply down into your tummy. Put drops from the essence bottle into a glass of water and sip frequently.
You are not alone. Individually and collectively we are feeling all our fear intensely.  This fear was never real, it was programmed into us.  Now it's time to let it go, for good.

Contains:
Distilled water, vodka, energetic imprint of Papaver somniferum (Abv.20%) in a 15ml / 1/2oz. dropper bottle with tamper evident dropper top.
Shipping will be added at checkout