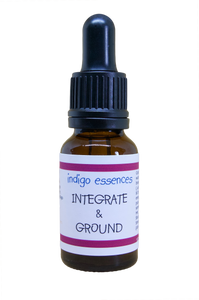 Integrate and Ground
Regular price €11.07 Sale
FOR WHEN YOU FEEL ALL OVER THE PLACE
A combination essence to restore equilibrium 
Right now we're encountering a number of energies that can easily take us off balance. These energies are a combination of the fears we're collectively feeling and releasing, the strong incoming cosmic energies,  the magnetic distortions created by Large Hadron Colliders,  EMF smog from WiFi and electricity and goodness knows what else. This mix of energies can make us feel ungrounded, vulnerable and anxious and can also cause pain in our physical body.

Here are a few ways you can use Integrate & Ground to help:
1. add some drops of Integrate & Ground to a personal water bottle and sip frequently.
2. add drops of the essence to a cream and apply to your body, especially your feet.
3. put a few drops of the essence into a spray bottle with an essential oil of your choice and spray around your self & your space.  This is especially useful if people around you are very upset.
You'll be surprised how quickly energies settle down again when you do this.
The essences in this combination are :

Deep Magenta Opium Poppy ... to calm the fear and help you integrate all aspects of yourself
Hematite ... to ground and protect
Smoothie ... to form a buffer zone around your energy body

Shungite ... to shield from electromagnetic stress

Contains:   Distilled water, vodka, essences of Deep Magenta Opium Poppy, Hematite, Smoothie and Shungite (Abv.20%) in a 15ml/1/2oz dropper bottle with tamper evident dropper top.
Shipping will be added at checkout