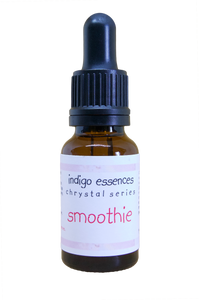 Smoothie - an energetic duvet for days when you feel raw
Regular price €11.07 Sale
Main feeling: too sensitive to other people's energy and feelings
For days when you want to crawl in a cave and stay there because the energy outside is a bit too rough.
Taking Smoothie essence has the effect of throwing an energetic duvet over yourself which forms a buffer zone between you and the outside world.
Made with a piece of elestial selenite and a mother of pearl shell, these energies combine to provide protection and comfort to sensitive beings.
Contains:
Distilled water, vodka, energetic imprint of elestial selenite and mother of pearl shell  (Abv.20%) in a 15ml/1/2oz dropper bottle with tamper evident dropper top.
Shipping will be added at checkout