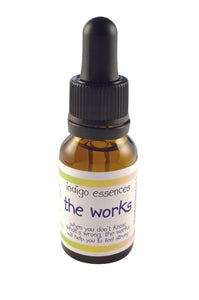 The Works
Regular price €11.07 Sale
The works can be used in an emergency, like a rescue remedy, it will help to balance and stabilize you while you figure out what you need to do to improve your situation.  The works can be particularly useful for people who are so stressed they feel like ending it all.
The Works is particularly useful for teenagers too, for that time when a child is closing off, a time that is very scary for parents because they can't communicate - there is no fighting anymore, no arguments but the child is getting more and more distant and the parent doesn't know what to do - they don't know how to communicate, they can't get a response.
Spray it around the house or put some into a bowl of water so the whole house gets this essence.
If a child is shut down, when they take this essence an outburst of anger and rage may follow. It is important that you and your child work through this anger together so that you can find out what is really bothering them and work together to make things better.
This essence is not a replacement for qualified professional help.
Please note the following :
There are TWO OPTIONS for this essence, one with preservative (alcohol)  and one without. 
The essences preserved WITH ALCOHOL are stock strength, this means they are designed to be further diluted, i.e. 3 drops from the stock bottle can be added to a 100ml bottle of water or a drink.
The essences bottled in DISTILLED WATER only should last several years if treated carefully. We have essences here that were bottled in water over ten years ago and they're still fine. Store your essences in a cool, dark place. Never touch the pipette and absolutely never drop the essences into the mouth directly from the pipette,  instead add drops from the bottle to a glass or small bottle of water and sip as required. Please use your common sense and stop taking the essence if you notice the water has got lumps in it.
Contents:
Option with preservative:
Distilled water, vodka (Abv.20%) and the following essences in a 15ml/1/2oz dropper bottle with tamper evident dropper top.
Option without preservative :
Distilled water and the following essences in a 15ml/1/2oz dropper bottle with tamper evident dropper top.
Azurite - to help get energy flowing again
Calcite - to help remember your dream
Charoite - to help find a way through fears
Chrysocolla-gem-silica - to help speak from the heart
Fluorite - to help change old patterns
Hematite - to help ground and feel protected
Isis - to help balance
Kyanite - to help focus
Hiddenite kunzite - to help ground and feel joyful again
Lepidolite - to help take pressure off 
Pyrite - to help know what is real and what is not
Selenite - to help soften up and let go of blockages
Sugulite - to help feel safe
No 8 - to help stay in the present
Shipping will be added at checkout